Experien General Insurance Services is a nationwide insurance brokerage firm helping hundreds of doctors, dentists and other businesses to arrange insurance for their practice or business. We save you time and canvas the market on your behalf to secure the best cover from a range of insurers.
What is Business Insurance?
Business Insurance protects you and your business from financial loss from risks such as fire, theft and property damage.  Coverage can be arranged to protect from physical loss and liabilities arising.

If you are an existing client and need to lodge a claim after hours
Click here to get the after hours telephone number to lodge a claim after hours based on your insurer.
Business insurance coverage options
There are many optional components to choose to include in any business insurance policy. We help you understand and navigate the range of options.
What can business insurance cover?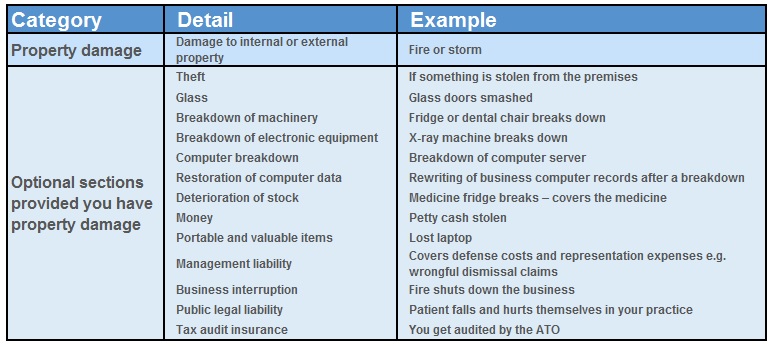 Additional information
Property Insurance:

 covers your building and contents against loss or damage by fire, earthquake, storm, and accidental damage.

Business Interruption Insurance:

pays your business' loss in income as a direct result of a property loss or damage and other specified events.

Liability Insurance:

insures you against third party claims arising from personal injury or property damage to others as a result of your normal business activities (excluding professional duties insured under your professional indemnity insurance or medical malpractice insurance).

Burglary and Theft Insurance:

 pays you for loss of your contents or money as a result of a burglary or theft by a third party.

Machinery breakdown insurance:

 insure's the repair or replacement costs of specified machinery following a breakdown, loss or damage due to a number of specified events
Cyber Insurance
What would you do if your patient's medical records were hacked and you were required to pay a ransom -or have them shared with the public? The threat of cyber-attacks is a growing concern for businesses, and medical practices are not exempt. In response to this emerging threat, insurers have developed cyber event products that can offer valuable protection. Many businesses don't have this cover but should consider it.
Cyber insurance is arranged via a separate product and costs usually start from around $1,000 per annum. EGIS can help obtain a quote for your practice. Read more about Cyber Insurance here.

Common mistakes made with Business Insurance include:
not insuring a fit-out separately.

assuming that glass its covered under property damage.

not covering machinery breakdown.

selecting an insurer that doesn't cover damages from a flood.
Benefits of a Business Insurance Review by Experien
Access to a personal adviser to assist with all matters including claims.
We can recommend an insurer with a claims team that specialises in medical and dental practices and understands the equipment and unique features.
We may be able to get cheaper premiums with equal or greater or more cover.
We help you avoid costly mistakes by:
– avoiding gaps in your cover e.g. business interruption.
– reviewing for under or over insurance.
– noting interested parties on the policy.
Obligation free review generally with no additional costs on top of your insurance premium
The information above has been prepared by Experien General Insurance Services. This information is General in nature and does not take into account your relevant investment objectives, financial situation and needs. You should assess, or seek the help of your Adviser to assess, whether this information is appropriate to your individual objectives, financial situation and needs before making an financial decision on the basis of this information. You should consider the Product Disclosure Statement (PDS) issued by an insurer when deciding whether or not to acquire or to continue to hold an insurance product.
 Please click here for our Financial Services Guide, which includes important regulatory disclosures regarding our license, remuneration and complaints handling.
Clients not satisfied with our services should contact our Complaints Officer. We expect that our procedures will provide a fair and prompt resolution to your complaint. If, however, you're not satisfied with our final decision or if we haven't been able to resolve the complaint to your satisfaction within 30 days, you may be able to take the complaint to the Australian Financial Complaints Authority (AFCA). AFCA provides fair and independent financial services complaint resolution that is free for consumers. AFCA has authority to review certain complaints. Contact them to confirm if they can assist you. You can contact the AFCA by 1800 931 678 (free call), info@afca.org.au or at www.afca.org.au.